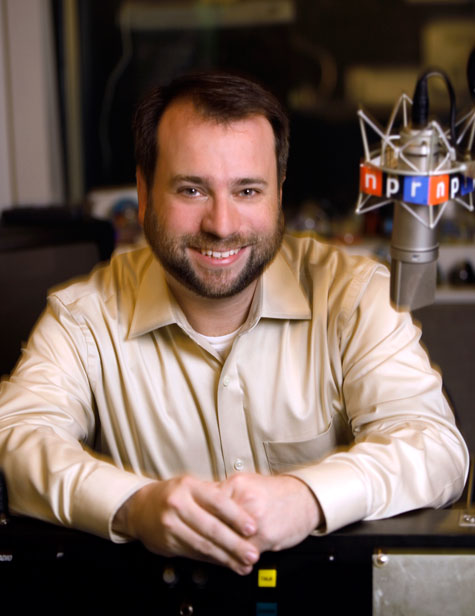 Robert Smith is a Professor at Columbia Journalism School and a long-time host of NPR's Planet Money where he tells stories about the global economy. With a microphone in hand, Robert has drilled for oil, harvested cotton, launched a satellite into space, and created a new superhero. Robert was Planet Money's editor for 3 years and now edits podcasts at Pushkin Industries. His work has won the highest awards in broadcasting, including an Emmy, a duPont-Columbia baton and the Peabody award. Professor Smith will be leading the week-long Story Editing For Audio starting on June 25th. Monson Arts recently asked Robert a few questions on his experience as an editor for Planet Money and what he looks forward to teaching at Monson Arts a second time.
Monson Arts: You were the Planet Money editor for NPR for 3 years. How did that experience inform you in developing a story editing class for audio? Or, with all your previous radio and journalism experience, what were any new ideas you learned in that position?
Robert Smith: My time as an editor at Planet Money gave me a new perspective on audio. As a reporter, I was totally focused on the end product. I wanted each story to be great and to reflect all the amazing things I learned and people I'd met over the course of the reporting. But as an editor, you have to take responsibility for shaping the process itself. You want the end product to be good, obviously, but an editor needs to constantly be thinking about what we're trying to accomplish with each story, and how to set up the process that makes it the best experience for everyone involved in a show. You need to support the storyteller's vision while also being an advocate for the audience and what they need and want to hear from any particular story. The more I edited stories, the more I came to believe that it's the decisions you make at the very beginning of a project, the focus and scope of the story, that makes all the difference. Editing is not just something that happens after the writing; it's constant steering and refinement and communication with the storyteller.   
MA: As a story editor you're managing people. What's the secret to getting a team to see your vision and how do you use personality dynamics to get the best story?

RS: Every editor is different and they use their particular creative skills to help bring the team together. The key is knowing that it isn't your vision that you're trying to imprint on the process. You are trying to hear what the creator wants to accomplish and you are helping them make a map to get there. My skill is that I've spent most of my career out in the field reporting, so I've made every mistake you can make in audio. I can hear what a reporter wants to do, and we can game plan out interviews, field scenes, and structure from the very beginning of the process. My process involves a lot of play-acting and fantasy moments.  Who are the best possible people who could be in this story?  What is the greatest moment you can get on tape? How can we get listeners hooked from the very beginning of the story? Getting the team excited about the best scenario helps get us through a lot of the low moments. 
MA: This is your second time coming up to Monson to lead a class. What made you want to come back and is there anything you're going to do or focus on differently than last year?

RS: It's such a unique experience to sit in a beautiful place and talk about the things you love. We had such a great time in Monson last year analyzing stories in the morning and discussing our favorite work while hiking in the afternoon. It's a gift to take 5 days to focus on yourself and your skills and the work you want to do. And to be surrounded by amazing people doing the same thing. I mean look at it:


Every class I teach is different. Mostly because as an editor, I always want to rip up the script and find a better way. But also because each class is tailored to the people participating. Last year, we ended up having some sessions where everyone shared their particular skills and I would love to do that again. 
There is still space in Robert's class, Story Editing For Audio, that runs from June 25th through July 1st at Monson Arts. Further details and sign-up are available HERE.